News
bike raincoat men,Gives you a sense of security in heavy rain
by WENHAO QIANG on Sep 01, 2022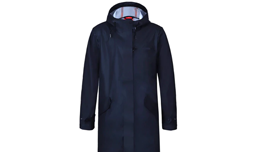 When it comes to riding raincoats, the image that springs to everyone's mind should be hard to associate with fashion. In the past, the styles of raincoats were the same and the quality could not be guaranteed. A light rain can protect anyone, but in a heavy downpour, wearing a raincoat is the same as not wearing it, and when you return home your clothes will still be wet. The old-style raincoat is uncomfortable to put on and take off, and it is stuffy and hot. The rain mixes with sweat and it's difficult to protect everyone in the rain. Today, I would like to recommend everyone a fashionable and practical bicycle raincoat, which can protect everyone from heavy rain on rainy days, so that everyone can ride safely on rainy days.
This raincoat is made of 100% polyester, it can waterproof up to 5000mm, which can protect us well from heavy rain even in heavy rain. The raincoat uses heat-sealing process in key parts, which can improve the waterproof performance of the raincoat and prevent rainwater from seeping through the seams. Even if you spend a whole day outside in heavy rain, you can keep it dry and cozy inside. In order to facilitate the use of users, the hat rope and cuffs are adjustable, and the Velcro pockets and waterproof zipper pockets on both sides of the clothes can prevent objects from falling. In addition, the designers have specially designed ventilation holes on the underarms of the raincoat to ensure the raincoat is comfortable and fit, keeping it fresh at all times.
This raincoat is medium length, suitable for spring and autumn. The colors are black and yellow for different users to choose from. The raincoat has no lining and two webbing straps are designed on the inside for folding and storage. In order to closely adhere to the theme of environmental protection, the raincoat zipper specially uses recycled environmental protection two-way zipper, which is of good quality and very convenient to use. At the same time, the top of the zipper is equipped with protections to prevent users from being injured during use. Lightweight, stylish and functional, this raincoat can be used when travelling, walking, working or riding.