News
Ladies bike raincoat, ladies bike raincoat for a fashionable look
by WENHAO QIANG on Sep 01, 2022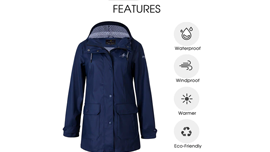 If you ride in the rain, you can easily get wet from the rain. When it rains more in the rainy season, it is necessary to choose a fashionable and light raincoat. A comfortable raincoat is breathable and can help us protect our elegant temperament in the rainy season.
Raincoats are not common in our daily life and are often ignored. In the rainy season, raincoats are like our parents' arms, which can protect us from the wind and rain. When the rainy season comes, the raincoat is no longer a tool but an equipment. Today I recommend an elegant women's cycling raincoat to protect us from the wind and rain in the rainy season.
Ladies bike raincoat
This raincoat has 3 colors: dark blue, yellow and red, each of which has its own unique temperament. Overall elegant and generous, the design is more concise, a short spring and autumn style, suitable for women 155-160 height. Good weatherproof effect, the exterior is made of 100% polyester and 100% polyurethane, waterproof up to 4000mm, the inner lining is sunflower mesh lining, soft wearing can help the body quickly wick away moisture and sweat, so women who wear it the rainy season Stay dry and comfortable at all times.
The beige model is more feminine and elegant, the entire surface is made of 50% polyester, 25% polyurethane and 25% nylon, the medium length model is more suitable for heights over 160. Hidden pockets, a slightly fitted waist and a high neckline. The inside is a non-slip zipper, the outside is three hidden buttons, and the brim prevents the rope from falling. Let women dress more intimate in the rainy season, reflecting the overall elegant temperament.
Cycling in the rainy season poses certain safety risks. For women, you can choose a raincoat that suits you. The above two raincoats are comfortable, practical and durable. They are suitable for many occasions. When the rainy season comes, you can give yourself full play with the style and function of the raincoat, which can help women save the embarrassed appearance in the rainy season and keep a fashionable and elegant state.