News
Men's MTB Rain Jacket,Riding in the rain can also be stylish
by WENHAO QIANG on Sep 01, 2022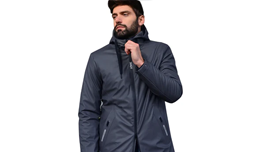 For those who love cycling, distances can be covered on a mountain bike. If you plan to ride in the rainy season, you need to bring a portable raincoat. The first feeling of raincoats in the past was that they are waterproof, with a single style, and the biggest role is to keep out wind and rain. In fact, mountain bike raincoats in current everyday clothing can not only serve as rain protection, but also as a representative of riding fashion.
Casual men's PU winter raincoat, in addition to its simple design, the outer layer is made of recycled PU fabric, 100% polyester fabric, water pressure resistance 5000mm, PU fabric is windproof and waterproof, good waterproof performance in winter, comfort and warmth driving Good choice for Pedestrian. In addition to starting with the fabric, this winter rainy season has also put a lot of effort into many details, such as designing a waterproof two-way zipper that is more convenient to put on and take off. There are tie ropes and zippers at the neckline for easy fixation to prevent rainwater from flowing into the neckline during heavy rain. The outer pockets are slanted to prevent items from falling, and the additional ventilation holes under the armpits prevent the wearer from feeling sultry in hot weather.
For some people who like mountain biking, they can choose this raincoat. Many people have just started to choose the jacket-pant split raincoat. This raincoat is very convenient in light rain, but in heavy rain, the biggest disadvantage of the split Raincoat is that it is not breathable, looks rainproof from the outside, and the clothes inside are already stuffy and wet, so you can choose this open raincoat when choosing. Although the shoes and legs may be a little wet, the body is much more comfortable .
rain jacket men waterproof breathable
Our company specializes in manufacturing and designing fashion raincoats . In order to meet the needs of market consumers, we have added many male raincoats now. At the same time, we added more fashion elements while ensuring the rainproof function. For riding partners who like fashion, trend and leisure, you can choose freely from the link