News
Yellow women's raincoat, fashion and safety at the same time
by WENHAO QIANG on Aug 26, 2022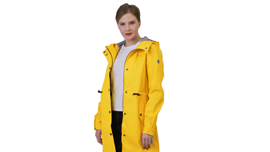 Raincoats are pieces of everyday equipment. Conventional raincoats are stiff, airtight and unsightly to wear. With the progress of the times, people's pursuit of beauty and fashion, the rainy season is constantly improving, from design to tailoring to color. Breaking the image of a traditional raincoat, it protects against wind and rain and can also be combined with other items of clothing in a fashionable and versatile way. Let's talk about yellow raincoats today
Wearing raincoats in rainy days is many people's choice, but some raincoats are made of oxford fabric, so they are waterproof but not breathable, and seep through the rain for a long time, which is very uncomfortable. Also in the choice of color, bright colors will be the first choice, because in the rainy season, the visibility is low and it will have a certain impact on the line of sight, red and yellow have become the first choice for many people. Red is bright in the rainy season and easier to see from a distance, while yellow is also the most eye-catching color among other colors. It also increases the reflectivity of car lights, which can remind passing drivers and increase the safety of traveling on rainy days coefficient.
So how to choose a quality and fashionable yellow raincoat? Today I will introduce you to a raincoat suitable for women.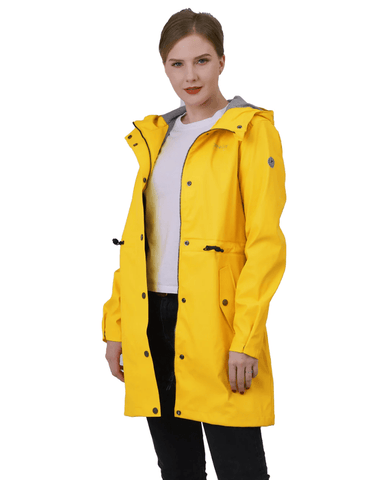 This premium raincoat features a soft fabric and a more breathable lining for quick moisture wicking. The outer PU coating does not get wet when driving, and the design considers turning without blocking the line of sight, making it safer and more practical. Casual PU raincoats for women are medium length, suitable for spring and autumn, with 100% PU coated raincoats made from recycled polyester. With a water resistance of 5000mm, even in heavy rain, it is not easy to leak for a long time, and the use of PU coating is more durable, so it does not feel hot and humid when wearing. There are currently three colors in the cart, Yellow, Stargazer and Auburn. Among the three colors, the yellow series sells better and is suitable for young people. The style is simple, elegant and fashionable. The design has a lined drawstring hood. Concealed two-way front zip at neck. An adjustable drawstring is added at the waist, which can better reflect the waist, and the overall appearance is chic and slim.

In short, the women's fashion yellow raincoat is a hot-selling model at present. If you are interested, you can come and find out more! >> Ladies raincoat <<