News
Fashion recommendation:outdoor rain jacket women - 100 percent waterproof rain jacket
by WENHAO QIANG on May 11, 2022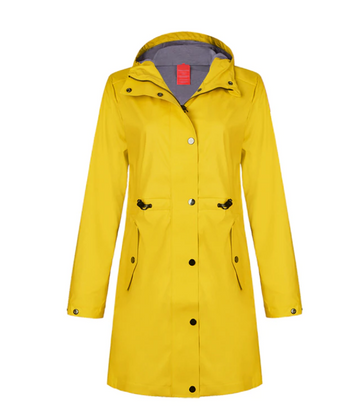 The weather in spring and summer is changeable, and it is very troublesome to go out on rainy days, especially when it is windy and rainy, even if you bring an umbrella, your shoes and pants will be wet from the rain. On rainy days, it is very convenient to choose a stylish women's outdoor raincoat. Today I recommend several 100% waterproof fashion raincoats for women.
Purchase address:
https://dingy.eu/collections/regenmantel/products/cherry
women's outdoor rain jacket
Thermal lining 100% rainproof
● Reflective material properties
● Side pockets with hood and press studs
Cherry raincoats for women have a thick inner lining, so in addition to 100% protection from rain, you also have the best protection from the cold. The raincoat is characterized by its reflective material properties. The surface of the jacket that reflects light. Therefore, a raincoat provides better protection from the light.
Purchase address:
https://dingy.eu/collections/regenmantel/products/fundy-1
100 percent waterproof rain jacket
FABRIC

: 100% polyester

COATING

: 100% polyurethane

STYLE

: medium and long

APPLICABLE FOR

: spring and autumn

COLOR

: Golden、Black
Top quality, perfect cut, economical
100% waterproof outer material and 4,000 mm water pressure resistance
More breathable, looser, not sultry in summer;
Two-way front zip, concealed press studs, jacket with high closure (neck protection from the cold) and thick drawstring on the stylish hood (width adjustable), detachable waistband
This waterproof raincoat has a stylish look and is designed for women with the right length to prevent it from getting wet from the rain. This raincoat can be styled with any outfit and belongs in every wardrobe! Especially in bad weather, this raincoat is perfect for city strolls, beach walks or bike rides on the way to work, or hiking, climbing.
Purchase address:
https://dingy.eu/collections/regenmantel/products/alice-1
Material

: Outer material: 100% polyester

Lining

: 100% cotton

Style

: medium and long

Applicable to

: spring and autumn

Color

: Yellow、Navy、Rose red、Sea foam
Double-way zipper, comfortable to wear.
Warm, windproof, waterproof – this is how a waterproof raincoat should be.
A stylish, warm women's winter hooded jacket with fine stitching and perfect details.
2 outer pockets with snaps, fixed hood with drawstring, snaps and front zip
The women's raincoat "Alice" is ideal as a spring and summer jacket. It convinces with its lightness and the eye-catching colors. The inner lining of the model is made of cotton and is therefore comfortable to wear. The raincoat is windproof and 100% waterproof, so it can withstand wind and weather. Whether for the city, sport or leisure, you are always properly dressed.