Women'S 3 In 1 Leisure Pu Colorblock Raincoat EMILY-A
Sale price
€119,99
Regular price
€0,00
Tax included.
Product description
Product reviews
Shipping & Return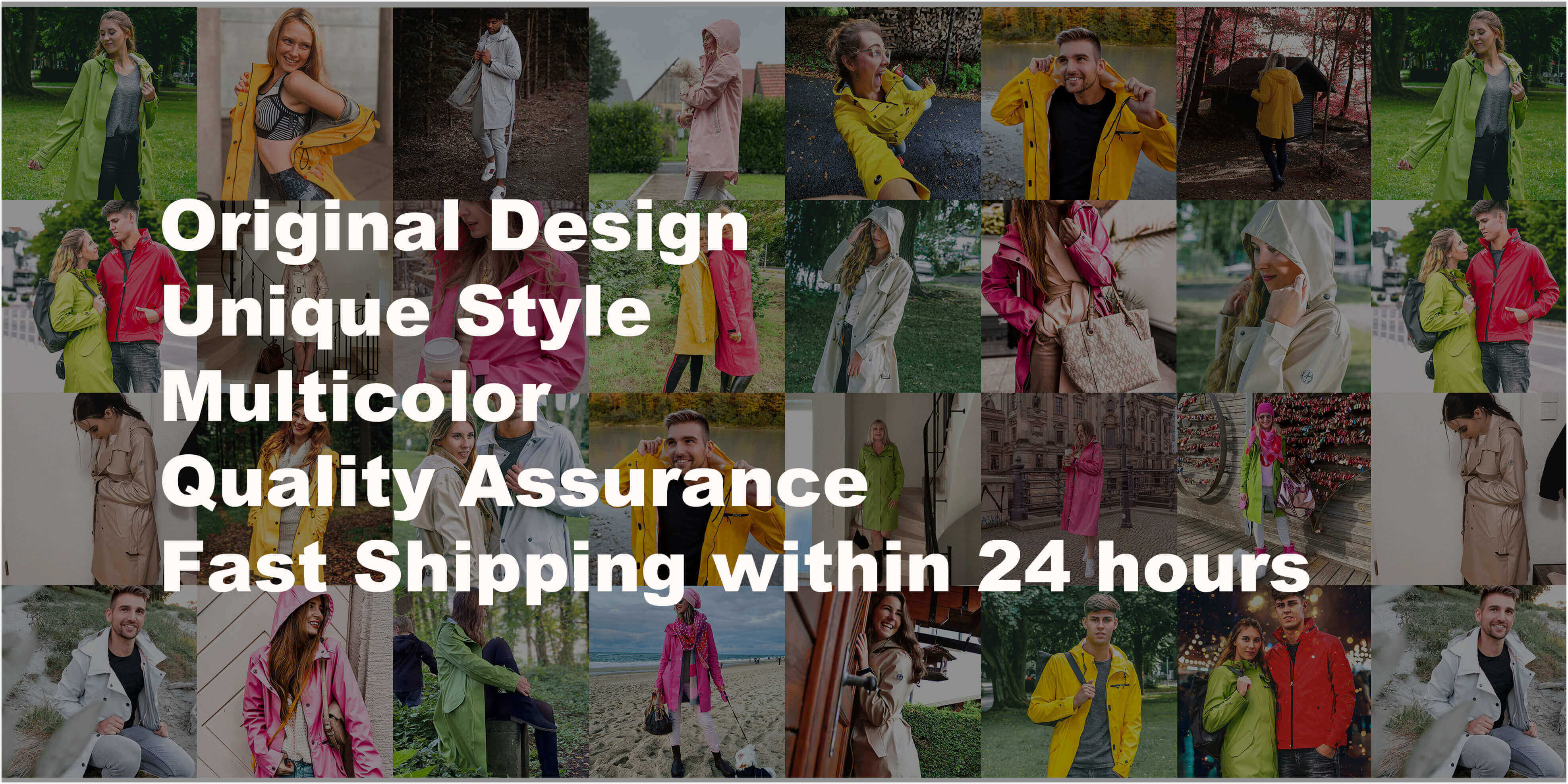 outer fabric:100% Polyester
coating: 100% polyurethane
style: medium and long
Applicable to: Winter
[High-quality fabric, good waterproofness, high wind density, thermal effect] The outer jacket is made of recycled PU fabric, 100% polyester fabric, and its water resistance is 5000 mm. Many parts are connected by heat sealing process, which has a good waterproof effect. The feed material is composed of 100% waterproof polyester spinning fabric, which feels comfortable and soft, filled with 3M silk-like cotton, and has good heat preservation effect. The delicate texture and concave-convex design prevent 3M cotton from being filled, which makes cotton clothing have strong self-cultivation effect and good heat preservation effect.
[Humanized detail design] The outer jacket has an adjustable waist, which is suitable for narrow pass. The rope and cuffs can be adjusted. Tighten slings and cuffs for better weatherability and waterproofing in rainy days. Raincoat adopts yk recycled two-way zipper which is harmless to the environment, with good quality and convenient operation. The zipper has a protective design at the top to avoid injury. The ventilation hole under the arm ensures comfortable passage and keeps it fresh.
[Multiple ways of carrying, affordable] The coat and food can be carried alone, or the two parts can be carried together. Wear only a coat: windproof and waterproof. Wear only pantyhose: warm, breathable and light. The two parts are airtightness, waterproofness, rainproofness and warmth retention, if they are worn together. You can wear them together when you go out on rainy days, so that you can keep warm from the wind and rain. When working indoors, you can carry portable snacks alone. A piece of clothing can be worn in different seasons and is very cheap.
[Raincoat Care]
1. Raincoats are easy to clean. It is recommended to wash them manually or chemically at low temperature. Do not wash them on the machine.
2. Clothes should not be stored in a humid environment, but can be stored and dried separately.
[occasion & customer service] This winter coat is airtight, waterproof and warm, and suitable for camping, traveling, daily use, etc. If you have any questions, please contact us. We provide 100% customer service. 100-day money back guarantee, for some reason.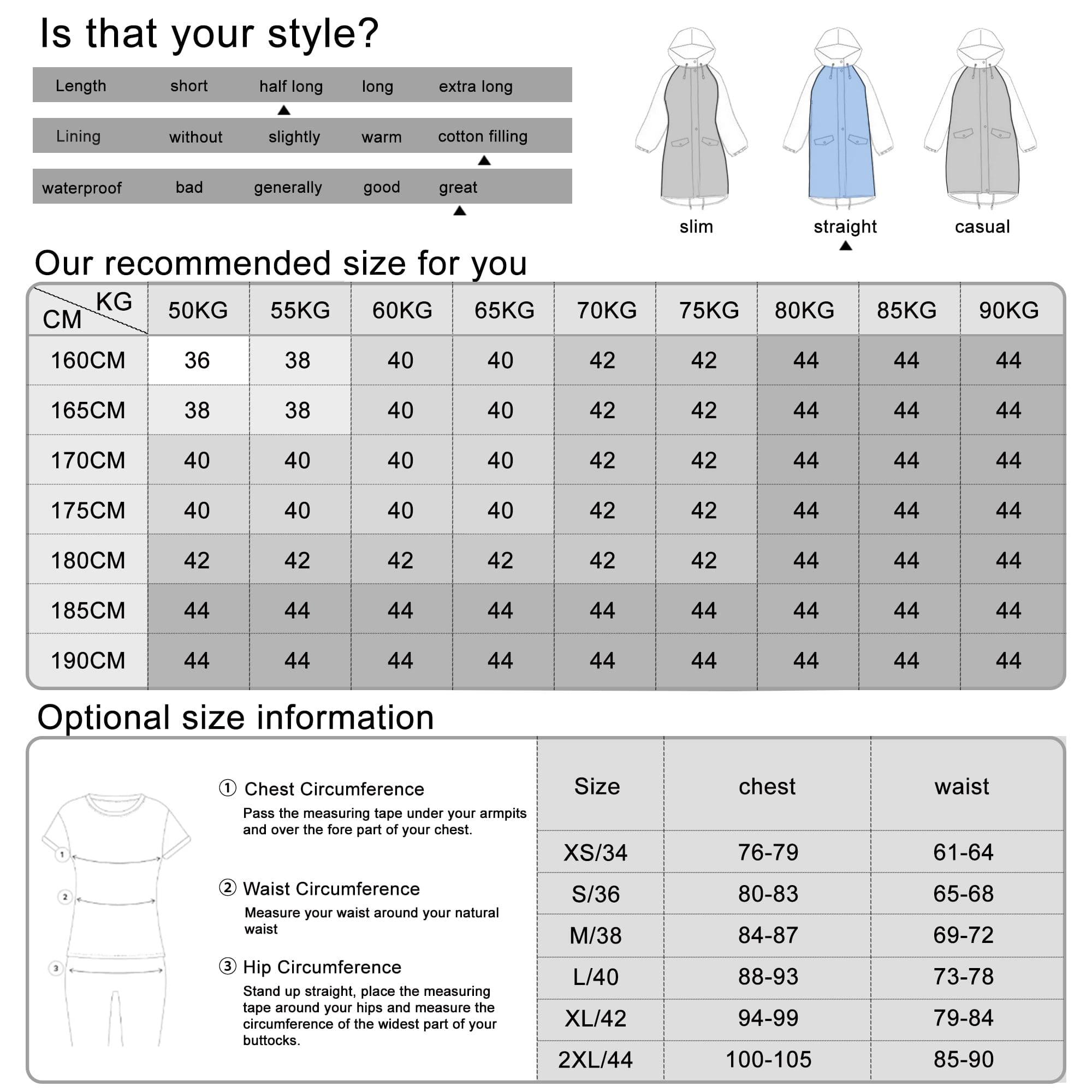 International flights are severely delayed by the epidemic. Based on this, it is estimated that the time to reach each country will be increased by 1-2 weeks

Dingy provides fast and efficient parts delivery services to customers around the world. We offer free delivery service for all orders in Germany and customers in EU and worldwide will be sent by DEL air mail (10-30 days).

International delivery time & costs

There are 2 kinds of shipping methods below.

1) Free standard shipping (DHL)

Shipping costs: 0 USD (from a purchase value of 50 euros)


You can enjoy DEL delivery service for all products bought by German customers on our website. Up to 10-15 business days worldwide (depending on location).

2) DHL shipping

Shipping Cost: .99 (Global Customers)

we will deliver to you as soon as possible. This may take 3-7 business days worldwide (depending on location). At this time, we charge .99 for shipping.
delivery time
We usually ship your order within 2-3 business days. It usually takes no more than 40 business days for delivery by airmail and 7 business days by express.
worldwide shipping

countries
Delivery time (natural days)
Germany
3-7 Days

United States,United Kingdom, Australia, France, Netherlands,Spain, Norway, Singapore, Sweden, Austria, Japan, Belgium, India, Ireland, Turkey, Portugal, Czech Republic, Serbia, Nigeria, Luxembourg, Thailand, Malta, Estonia, Lithuania, Cyprus, Oman, Azerbaijan, Iceland, Albania, New Zealand, United States Minor Outlying Islands, Switzerland, Denmark, Croatia, Canada

7-15 Days
Russia, Slovakia, Morocco, Romania, Indonesia, Bulgaria, Kazakhstan, Latvia,Finland, Hungary, United Arab Emirates
10-25 Days
Italy, Israel, Greece, Malaysia, Peru,South Korea, Vietnam
15-35 Days
Mexico, Saudi Arabia, Colombia, Philippines
20-50 Days
Brazil, Chile
At least 25 Days
South Africa, Argentina
At least 35 Days
Qatar, Mauritius
Delivery Time Untrackable
(Note:
The dispatch time should be calculated from the time the item is dispatched from the warehouse.)
We will do everything we can to ensure you receive the package on time, but we are not responsible for the service transit time, which is determined by the carrier, excluding weekends and holidays, which may vary depending on the package origin and destination, particularly during peak periods. We are not responsible for shipping delays due to weather, insufficient address information, public holidays, transportation complications or customs delays.
Customs Clearance & Import Duty
Dingy does not add taxes, VAT or other hidden charges. The order total you see on the checkout page (i.e. H. goods subtotal + shipping cost), you pay to us. However, for international shipping, the recipient is responsible for all their country's customs fees. Sometimes goods under a certain value or in certain categories are not subject to tax.
Import duties and VAT may or may not be applicable and are not determined until the shipment clears customs in your country. Please check your country's import regulations to understand your liability.
All duties and taxes levied are your (the buyers) responsibility and shall be paid directly to the buyer's government or to the courier company when the goods are delivered.
Dingy is not responsible for shipping or customs delays as this is beyond our control.
Customs duty
But if for any reason selling goods is detained by customs, we promise:
If your goods are destroyed by customs, both you (buyer) and I (seller) will bear half of the damage.
If the goods are returned to us by customs for some reasons, we will confirm with you how to solve the problem. We can rearrange the shipping for you or refund to your paypal account.
Remarks
Please note that shipping to remote destinations sometimes requires more time and additional fees due to international logistics policies. This additional delivery fee is required by logistics companies and must be borne by the recipient.
We are not responsible for the non-delivery caused by the customer not providing enough information when placing the order.
The FAQ about Shipping & Delivery
Q: Do you offer free shipping if I place a large order?
A: We're afraid not. We would like to offer you free shipping whenever possible because we consider you our god and always spare no effort to make you profit. However, the shipping cost is not included in such a cheap price we offer. It is charged by transport companies. We are very sorry that we cannot change anything for you at this point.Q: Do you deliver to PO Box addresses?
A: Currently, our shipping partners cannot ship to PO boxes or military APO/FPO addresses. If you provide a PO Box or APO/FPO military address, shipping of your items will be delayed.
Q: How do I know where my package has arrived?

A: After we ship your order, we will email you a tracking number so you can check the shipping status of your order.

Q: Can I change my address?

A: We can help you change the address if your order hasn't shipped. But we are very sorry to inform you that there is no use if the order is already on the way to the destination. In this case, you may need to contact the local logistic company and find a solution.