Women 3 IN 1 Casual Rain Jacket JESSICA
Sale price
€69,99
Regular price
€92,99
Tax included.
Produktbeschreibung
Kundenbewertungen
Größenreferenz
Versand & Rückgabe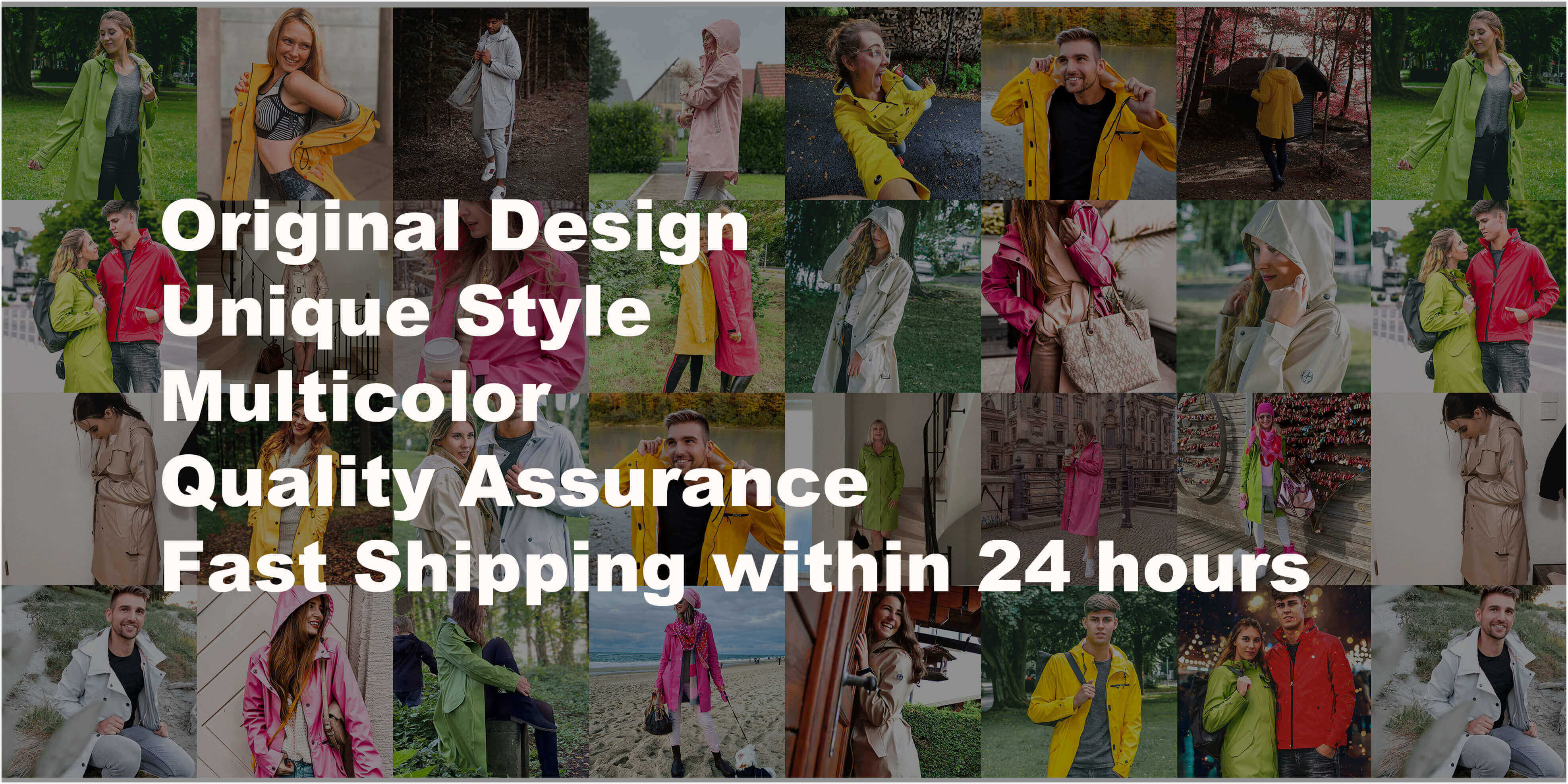 Composition: 100% polyester

Type: Medium length

Applicable to: Winter
[High-quality fabric, good waterproofness, high wind density, thermal effect] The outer jacket is made of recycled PU fabric, 100% polyester fabric, with water resistance of 5,000mm, and the heat sealing process is adopted for multi-part connection, so the waterproof effect is good. The feed material is composed of 100% waterproof polyester spinning fabric, which feels comfortable and soft, filled with 3M silk-like cotton, and has good heat preservation effect. The delicate texture and concave-convex design prevent 3M cotton from being filled, which makes cotton clothing have strong self-cultivation effect and good heat preservation effect.
[Humanized detail design] The outer jacket has an adjustable waist, which is suitable for narrow pass. The rope and cuffs can be adjusted. Tighten slings and cuffs for better weatherability and waterproofing in rainy days. Raincoat adopts yk recycled two-way zipper which is harmless to the environment, with good quality and convenient operation. The zipper has a protective design at the top to avoid injury. Lock bag and waterproof zipper bag prevent articles from falling off. The ventilation hole under the arm ensures comfortable passage and keeps it fresh.
[Several ways of carrying, cheap] The coat and food can be carried alone, or the two parts can be carried together. Wear only a coat: windproof and waterproof. Wear only pantyhose: warm, breathable and light. The two parts are airtightness, waterproofness, rainproofness and warmth retention, if they are worn together. You can wear them together when you go out on rainy days, so that you can keep warm from the wind and rain. When working indoors, you can carry portable snacks alone. A piece of clothing can be worn in different seasons and is very cheap.
[Raincoat Care] 1. Raincoats are easy to clean. It is recommended to wash them manually or chemically at low temperature. Do not wash them on the machine. 2. Clothes should not be stored in a humid environment, but can be stored and dried separately.
[occasion & customer service] This winter coat is airtight, waterproof and warm, and suitable for camping, traveling, daily use, etc. If you have any questions, please contact us. We provide 100% customer service. 100-day money back guarantee, for some reason.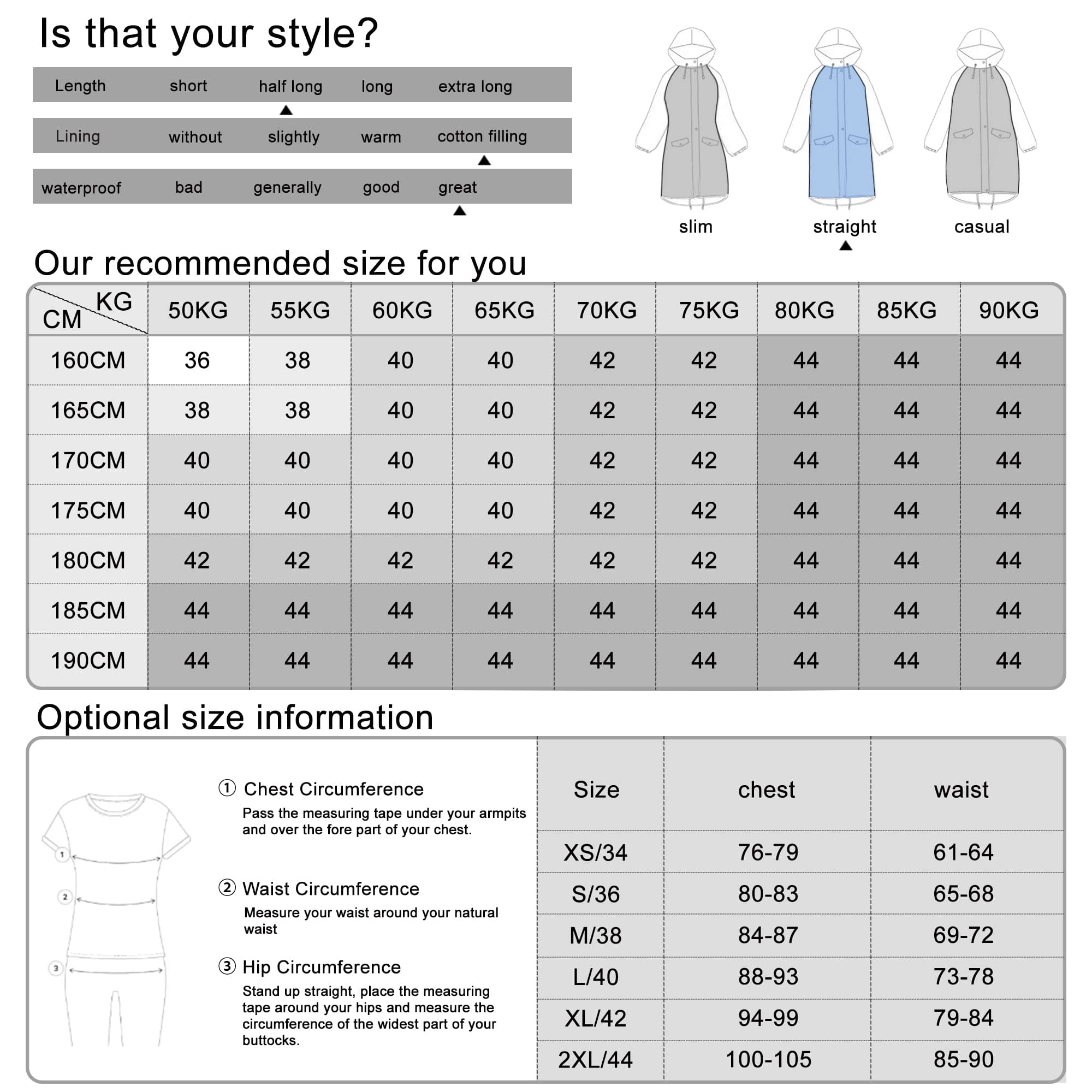 Height&Weight
50KG
55KG
60KG
65KG
70KG
75KG
80KG
85KG
90KG
160CM
36/p
38/M
40/L
40/L
42/XL
42/XL
44/2XL
44/2XL
46

/3XL

165CM
38

/M

38/M
40

/L

40

/L

42

/XL

42

/XL

44

/2XL

44

/2XL

46

/3XL

170CM
40

/L

40

/L

40

/L

40

/L

42

/XL

42

/XL

44

/2XL

44

/2XL

46

/3XL

175CM
40

/L

40

/L

40

/L

40

/L

42

/XL

42

/ XL

44

/2XL

44

/2XL

46

/3XL

180CM
42

/XL

42

/XL

42

/XL

42

/XL

42

/XL

42

/XL

44

/2XL

46

/3XL

46

/3XL

185CM
44

/2XL

44

/2XL

44

/2XL

44

/2XL

44

/2XL

44

/2XL

44

/2XL

46

/3XL

46

/3XL

190CM
44

/2XL

44

/2XL

44

/2XL

44

/2XL

44

/2XL

46

/3XL

46

/3XL

46

/3XL

46

/3XL
Kostenloser DHL Standardversand innerhalb Deutschlands, Lieferzeit: 3-7 Werktage.
Kostenloser Standardversand in andere europäische Länder (für Bestellungen über 75 €), für Bestellungen unter 75 € beträgt der Versandkostenpreis 15 €; Lieferzeit: 2-8 Werktage.
Für den Rest der Welt: Standardversandpreis von 19,99 €."