News
Women's riding rain jacket, really needed for cycling in rainy season
by WENHAO QIANG on Aug 23, 2022
When it comes to raincoats, everyone thinks of the old-style loose raincoats. After years of technical precipitation, the current raincoat can keep up with fashion, not only beautiful in style, but also completely waterproof, warm and breathable in rainy weather. Today I recommend a women's raincoat for riding based on new high-tech materials, which can become a beautiful landscape even on a rainy day.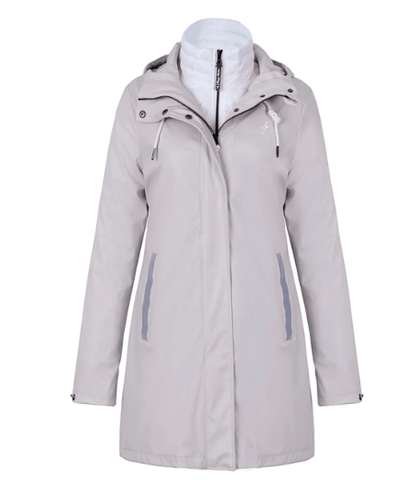 This recommended riding raincoat for women is a mid-length raincoat that is made of 50% polyester, 25% polyurethane, and 25% nylon. The inner liner is detachable to facilitate users to clean or wear in different ways. The raincoat uses heat-sealing technology, which has good waterproof effect and 3000mm water pressure resistance, completely free from heavy rain. The inside is made of 120 grams of pure cotton filling, which is comfortable and warm to wear. The entire inner tank has a delicate texture design, and the waist is tightened to make it more self-cultivating and show the figure. To prevent the cotton from deviating, the raincoat has a quilting process, which has good thermal insulation performance.
The zipper of the raincoat is equipped with YKK Recycled environmental protection two-way zipper, and a protective design is applied on the top of the zipper to prevent the user from being injured by improper operation during use. Both the cuffs and hood are adjustable, and the humanized design makes people happy when using this raincoat. Easy to wear and take off, waterproof and heat-insulating are the main features of this raincoat. Anti-theft pockets on both sides of the clothes prevent items from being lost. In the past, raincoats always gave the impression of being muggy. To solve this problem, the raincoat was designed with ventilation holes under the arms to ensure freshness at all times.
The raincoat jacket and lining can be worn separately. A garment can be used in different seasons. At the same time, the raincoat is also very easy to care for. It is recommended to hand wash at low temperature or dry clean. After cleaning, dry them separately and store them in a dry and ventilated place for later use.